News About SCS
Lund's Fisheries Inc.: California Market Squid Fishery Achieves MSC Certification for Sustainability
In a significant stride towards ocean conservation, the California market squid fishery has emerged as the latest to gain certification for sustainability under the rigorous standards set by the Marine Stewardship Council (MSC).
In a significant stride towards ocean conservation, the California market squid fishery has emerged as the latest to gain certification for sustainability under the rigorous standards set by the Marine Stewardship Council (MSC). The extensive evaluation was meticulously conducted by the distinguished independent third-party auditor, SCS Global Services, acting on behalf of industry leaders Lund's Fisheries, Del Mar Seafoods, and Silver Bay Seafoods.
MSC certification, renowned for its exacting international sustainability benchmarks, represents a pivotal benchmark for responsible seafood sourcing. The certification underscores the fishery's fulfillment of stringent criteria, including robust stock health, effective fisheries management policies, and minimal environmental impact, as stipulated by MSC guidelines.
"Over the course of 15 months, SCS Global Services assessed the California market squid fishery, evaluating its fishing practices, environmental impact, and management system against the best practices set forth by the Marine Stewardship Council," said Jason Swecker, SCS' Managing Director of Seafood. "This MSC certification not only acknowledges the fishery's achievement but also highlights the industry's collective strides towards sustainability."
SCS Global Services' final report lauds the fishery's strengths, highlighting "documented adaptable management strategies, regular management reviews," alongside "rigorous dockside sampling, minimal bycatch, and the implementation of innovative ecosystem-based management strategies."
Wayne Reichle, President of Lund's Fisheries, underscored the significance of collaborative efforts, emphasizing, "Aligning with two esteemed California squid producers, alongside SCS and MSC, reaffirms our commitment to the enduring viability of the California market squid fishery. As pioneers in sustainable seafood, our legacy spans three generations, a testament to the dedication of our fishermen, plant employees, and valued customers. The MSC certification distinguishes us as the sole U.S. seafood producer engaged in harvesting, processing, and distributing all three MSC-certified domestic squid species."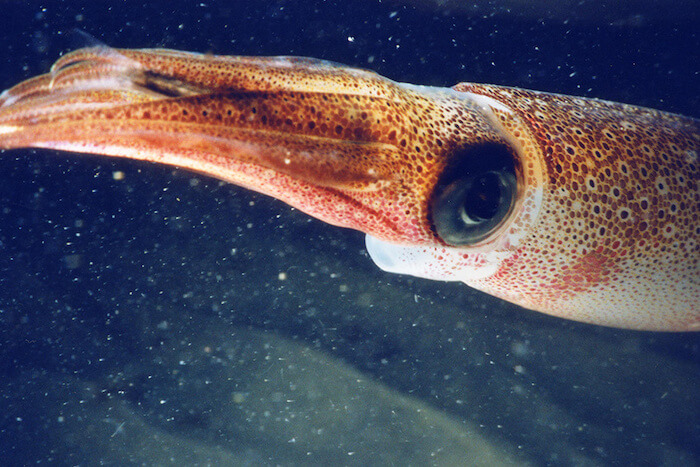 Market squid, Photo credit: NOAA
Carter Goetz, In-House Counsel for Del Mar Seafood, echoed the sentiment, stating, "At the core of our family-operated enterprise, spanning three generations, lies an unwavering devotion to sustainability and the preservation of our oceans. The MSC certification for the California market squid fishery epitomizes our continuous mission to foster a thriving future for both our enterprise and the marine ecosystem."
Cora Campbell, President and CEO of Silver Bay Seafoods, said, "Silver Bay Seafoods participates in many MSC certified fisheries in Alaska. Expanding our relationship to encompass the California market squid fishery is a natural next step to offering our customers across the globe access to a full suite of certified products."
With a century-old legacy, the California market squid fishery casts its footprint across both Northern and Southern California, notably in the vibrant locales of Monterey Bay and Ventura County. As the sole purse seine fishery specializing in squid in the nation, it stands as a beacon of responsible practices, exemplifying steadfast efforts to minimize bycatch and enhance industry-wide environmental stewardship. The global demand for market squid, particularly in Europe and Asia, amplifies its significance, further fueled by a burgeoning appetite for sustainably sourced squid domestically.
About Lund's Fisheries Inc.
Lund's Fisheries, Inc. is a third-generation, family-owned company and a primary producer of fresh and frozen seafood located in Cape May, N.J. Lund's purchases, produces and distributes nearly 75 million pounds of fresh and frozen fish annually. Its fresh and frozen domestic sales stretch nationwide while its frozen exports extend to markets around the world. Lund's Fisheries is committed to developing and managing systems and practices to fish within sustainable limits and track its products back to the harvest location to ensure they are sourced from fisheries that are well-managed, certified as sustainable or actively working towards implementing more responsible and sustainable harvesting practices.
About Del Mar Seafoods, Inc.
Founded in 1988, Del Mar Seafoods is a vertically integrated seafood producer and processor. With industry-leading production capacity, we process an average of 30 million pounds of California market squid per year. The Ocean Angel Fleet - comprised of 11 purse seine vessels - allows us control over raw materials and consistent supply. Our flagship brand, Ocean Angel Calamari, provides whole round and cleaned squid items for both domestic and export markets. As a family-owned and operated business, our mission is to deliver premiere seafood while leaving a healthy, sustainable fishery for generations to come. For information, please visit www.delmarseafoods.com or contact [email protected]. For more information on our vessel partners, please visit www.oceanangelfleet.com.
About Silver Bay Seafoods
Silver Bay Seafoods is an integrated processor of frozen, salmon, herring and squid products for domestic and export markets. We began in 2007 as a single salmon processing facility in Sitka, Alaska. Today, Silver Bay is one of the largest seafood companies in Alaska, operating six domestic processing facilities throughout Alaska and the West Coast.