News About SCS
Starbucks Philippines Goes Green: Introducing Eco-Conscious Certified "Greener Stores"
Starbucks Philippines champions sustainability with its pioneering Greener Stores in Makati, blending eco-innovation with iconic coffee experiences.
Starbucks leads the pack with its initiative of certifying 3,500 Greener Stores across 20 markets worldwide. This initiative redefines the standards of eco-conscious retail design, construction, and operations, perfectly aligning with the brand's resource positive aspirations.
Philippines Joins the Green Wave
The Philippines proudly flaunts its recent additions to the Starbucks roster with its first duo of Greener Stores. Nestled in Makati, a thriving hub, these stores serve as models for green retail – beautifully crafted to shrink their carbon footprint. With these eco-friendly installations, the Philippines now joins the ranks of Singapore, Thailand, and Vietnam, symbolizing Asia Pacific's dedication to environmental welfare.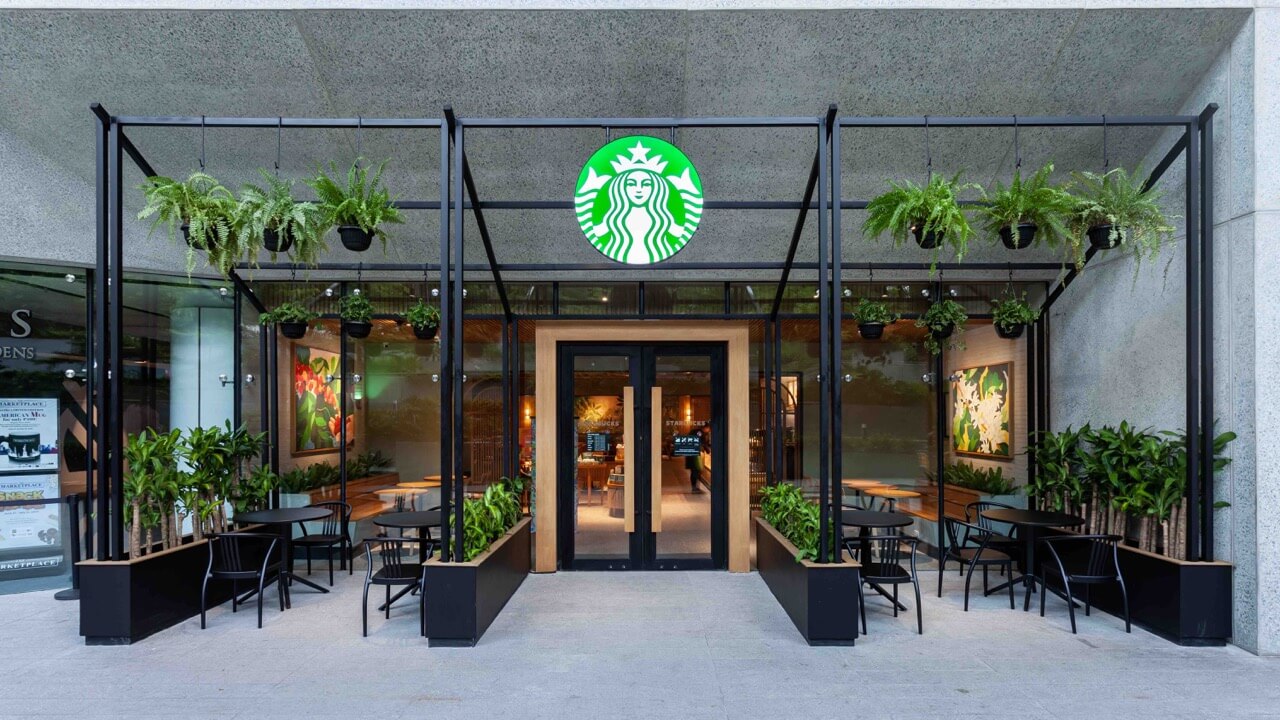 Greener Features that Stand Out
Both The Shops at Ayala Triangle Gardens and One Ayala Greener Stores are living testaments to Starbucks' Greener Store Framework. Their hallmark? A thoughtful orchestration of resources. Key highlights include:
Water Wisdom: Featuring state-of-the-art timeout faucets that promote water conservation.
Let There be LED: A commitment to energy conservation with the exclusive use of 100% LED lighting.
Cool and Green: Enhanced air conditioning technologies that optimize energy.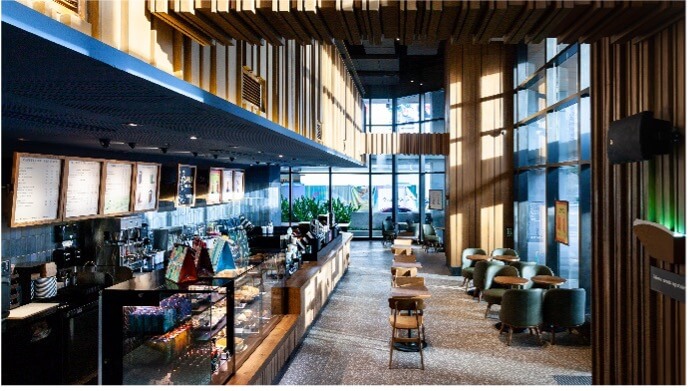 Additionally, eco-conscious construction materials are prioritized, setting a benchmark for sustainable store development.
Starbucks Philippines president, Noey Lopez, beams with pride. "We're thrilled to open our first two Greener Stores in the Philippines, a key step towards reaching our company's ambitious resource positive goals. This is a testament of our passion for sustainability that continues to drive our innovation."
Nature-Inspired Design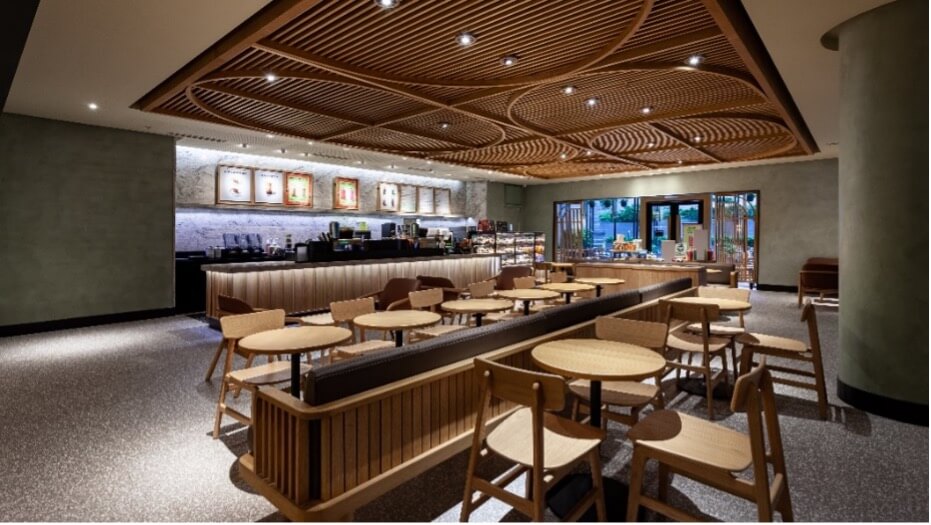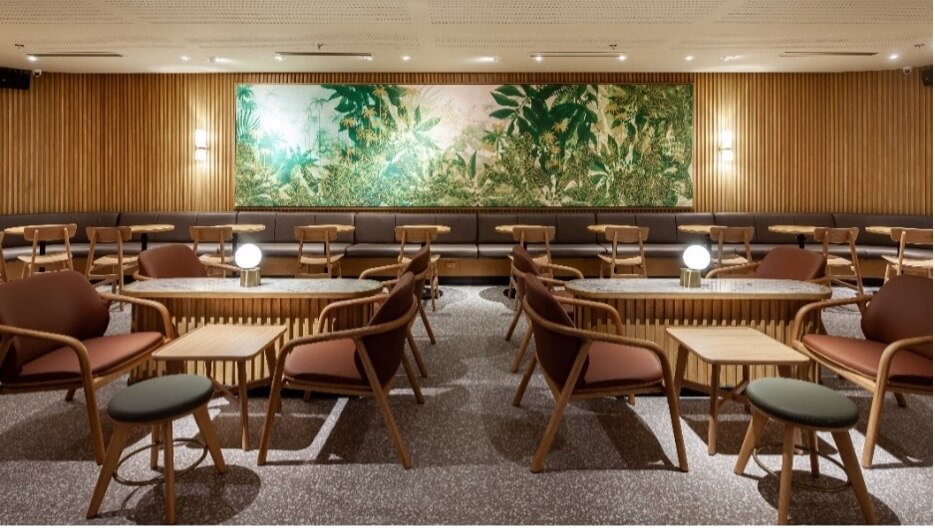 Inspired by the beautiful green foliage surroundings of Shops Ayala Triangle Garden, the store celebrates the organic and graphic elements of coffee farming, including the vertical rows of coffee plants, the horizontal shade trees, and the circular patterns found in coffee raking fields. This aesthetic was brought into every design element of the store, from the graphic slatted ceiling feature to the hints of green tones in textured paint and the green canopy of the outdoor area. In addition, the carefully curated artwork selection showcases the vibrant coffee-growing regions and surrounding plant life, highlighting the abundance of nature that surrounds the store.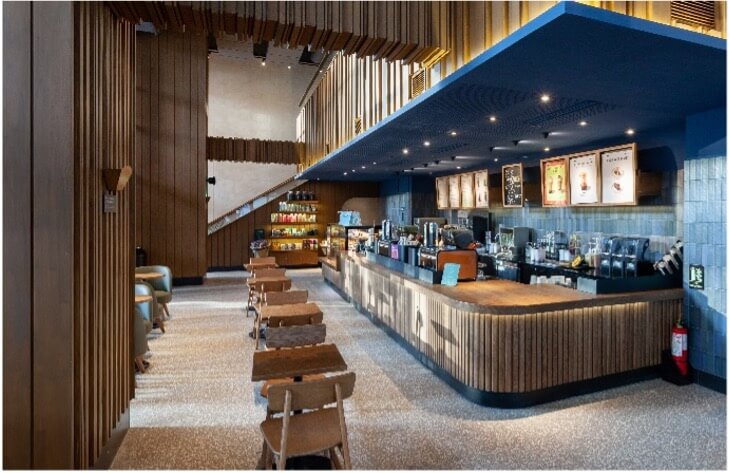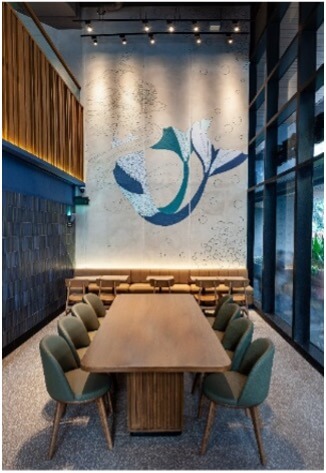 The One Ayala Greener Store is in the heart of One Ayala Center. Drawing inspiration from the siren, a mythical creature associated with the ocean, the store features a modern two-floor design, including a mezzanine level, and is adorned with a calming blue color scheme throughout.
Eco-Conscious Choices for Customers
In a bid to promote green lifestyles, customers receive a PHP 10 discount when they bring their own reusable cups or tumblers. Plus, a delectable range of plant-based food and beverages awaits them, anytime!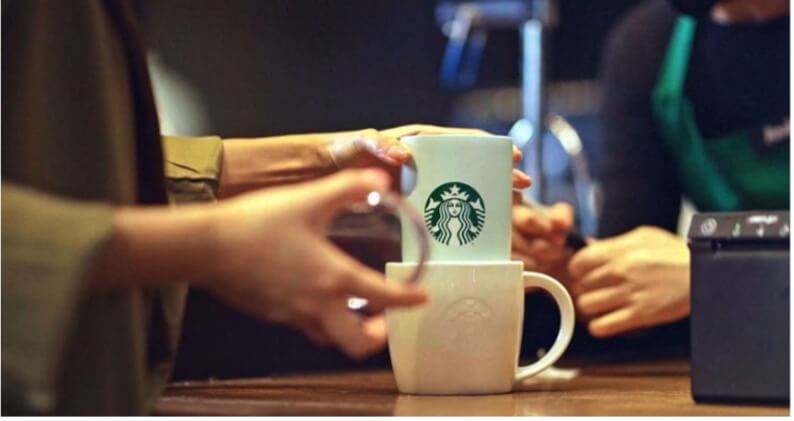 Since announcing the international expansion of Greener Stores in September 2021, Starbucks has implemented a global framework of design, construction and operations standards to certify new Greener Stores around the world. As of March 2023, over 3,500 Greener Stores have been certified in more than 20 markets globally, in addition to the Philippines. 
"With a company of Starbucks scale – any one action, no matter how small, has the potential for massive impact," said Michael Kobori, Starbucks chief sustainability officer. "I'm so proud to see our Greener Stores framework continue to scale for good globally. The program we have created will continue to move us closer towards our resource positive goals."
Visit the Greener Stores
The Shops at Ayala Triangle Gardens: Located at 1224 Makati Avenue, it's open from 6:30 am to 10:00 pm, Monday to Sunday.
One Ayala: Located in One Ayala, Ayala Avenue, it welcomes patrons from 6:30 am to 12:00 pm, Monday to Sunday.
Greener Store Certification 
Starbucks Philippines "The Shops at Ayala Triangle Garden, LG" has been officially certified as the first Starbucks Greener Stores Verified store after an independent assessment by SCS Global Services. The "One Ayala Greener Store" is the second store to be officially certified. These are the two stores that applied for certification under the Starbucks Greener Store program in the Philippines.